Tamika went out after we got up today, and headed to Café Jovial to get us some breakfast. She's been feeling a little down lately, and I knew the trip would do her good. I've also been arranging for a retreat for her.
Pastor Alan, Tamika, Ryan, Tom and I had been part of a learning group calle Fresh Expressions, which studies how to grow churches around common interests (like coffee shops or running groups) instead of dragging people to church buildings. Some of the classes were held at Richmond Hill, a monastery in Richmond, VA. The monastery was started by nuns from Baltimore who wanted to pray for racial reconciliation in the city, and just walking into the place is SO peaceful. I knew this would be the ideal place for Tamika to rest, so she'll be taking a train trip there in January.
The Black Marks is thinking about doing a show on New Years Eve at Joe Squared. Apparently, the Joe Squared staff voted and our band turned out to be one of the favourites; so we're in for the New Years Eve slot. We're beginning to discuss our next steps as a band and where we'd all like to go next. We've got an album (Everything) and an EP (the Power Struggle) out already, we just need to figure out what to do with them next.
At Café Jovial, Tamika met Deedee, the shop owner. Deedee is one awesome lady, and we're thinking about doing a closing show at her coffeeshop. She is hosting the Amalgamated Art Show there now, and from December 18th to January 18th she'll be hosting the Who Said What Art Show. The coffeeshop, located in Pigtown, is kinda small, and doesn't really lend itself to open mics or bands. Tamika had the idea of doing game nights, so we're going to try out a game night as a closing show.
After work, we headed to Chik-Fil-A to grab some dinner before worship team practice. Practice went pretty well; everyone seemed to get along ok. Jake even came down from the sound booth and joined the singers. He's got a very good voice, and I'm hoping he continues to sing. We went over Hillsong's Desert Song, which we'll be practicing over the next couple weeks.
Pastor Alan and Esther watch the kids for us while we're in practice, and so we always hang out with them for a bit afterwards. I really like that they talk with us, and seem to enjoy our company. They are both like second parents to the both of us; and I could swear Esther and my mom are sisters.
I've finally finished the last Who Said What piece on Nelson Mandela, have a look!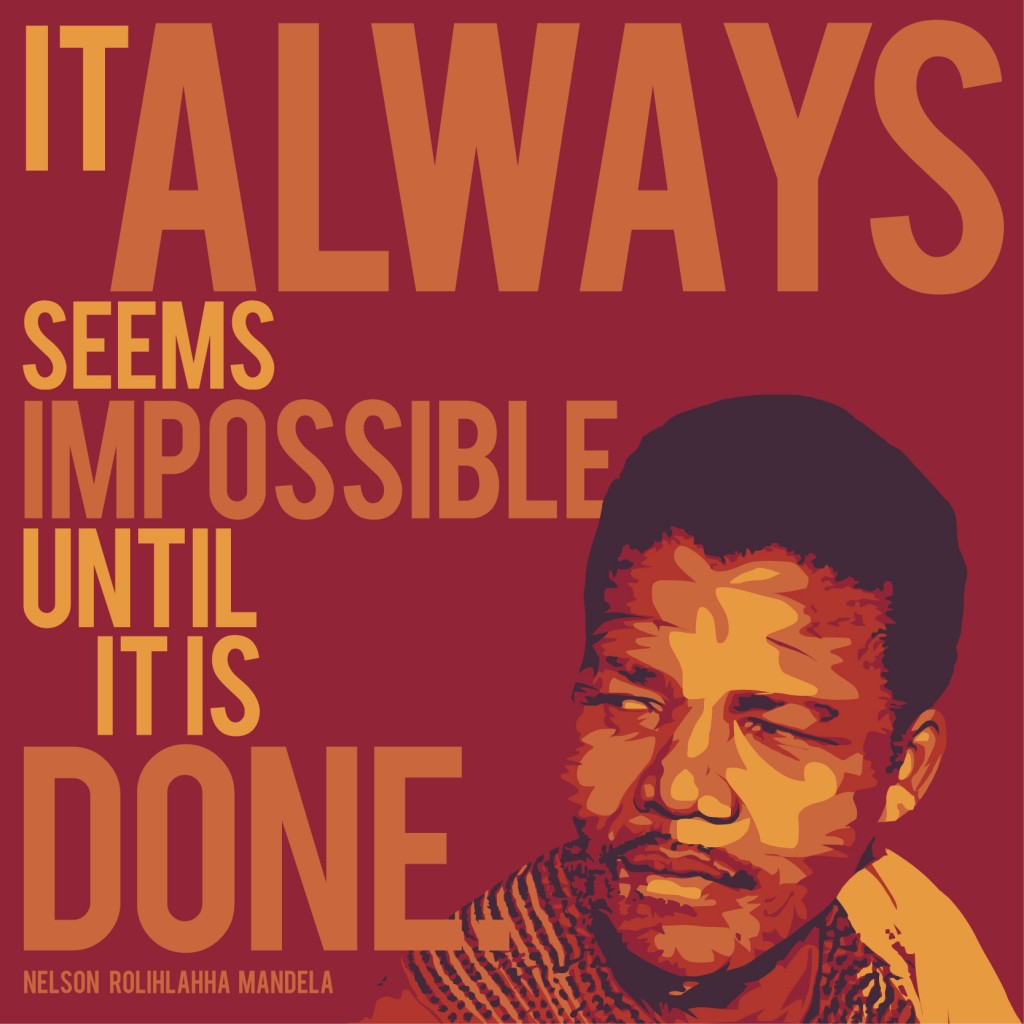 Check out the story behind it here!
Related articles